AIMS testing was disrupted by a bomb threat at North High today.
As
I wrote yesterday
, it's AIMS week in Arizona and not many people are happy about it. Not teachers, not students and not parents. So, although the bomb threat is a pretty common way for kids to get out of class, it was a little suspicious when "a woman" called in a threat to Longview Elementary right in the middle of test week. I thought it was an interesting, if isolated event.
But news comes today of another bomb threat at a Valley school. Police have given the all clear at North High School, but police locked down the school and moved the kids out of the classrooms and onto the football field (and eventually into the gym) as cops scoured the campus for a bomb. None was found.
Channel 3 reports
that "[t]oday is the last day of AIMS testing. It's not clear how the evacuation will affect Friday's testing schedule at North."
This made me a little curious, so I did a little checking. I was wondering if these were just two isolated incidents now. But, low and behold, yesterday Willcox schools were evacuated because of a bomb threat as well. Found scribbled on a dumpster by the Agriculture Building were the words "F*** wit us
&
the kids die Bomb in the school."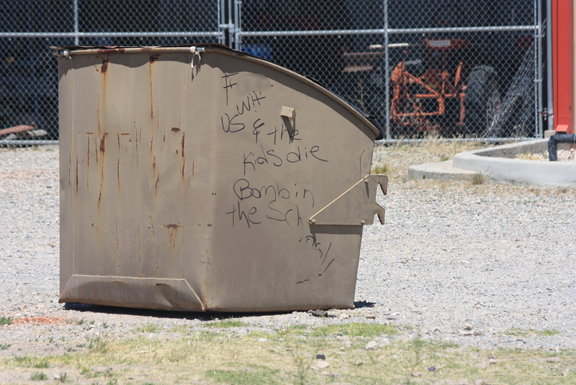 Whoever wrote the threat has trouble staying in the lines.
Cops searched for hours and eventually sent the kids home. Today is a planned day off for the district
but their posted schedule shows AIMS testing took place all week
, and according to the
Sierra Vista Herald
, when they were sent home "[m]any of the students were in their fourth and final day of
AIMS
testing, and had just started the second test of the day."
So the question remains: is it just coincidence? Or was this week witness to a wave of anti-AIMS bomb threats? And with so many people against the test, it seems the potential suspect pool would be pretty deep.